According to Fran Claggett—pioneer in the use of images to teach literature, "Through the use of graphics, students have opportunities to experience all four functions as they interact with the books they are reading and the essays, stories, and poems they are writing."
Yep, it's true! Teaching students to visualize what they are reading and/or having them create graphic symbols to represent text helps them develop as readers. So, what can you do to ensure this type of learning takes place in your classroom?
For one, check out Doodle Splash, a cool interactive from ReadWriteThink, that combines the process of drawing with analytical thinking about a text by pairing an online drawing space with writing prompts that encourage students to make connections between their visual designs and the text.
The image below not only illustrates the Doodle Splash work space, but it is a student example as well.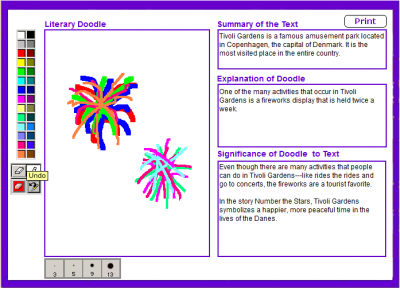 Worried about whether or not students can complete their work in one class session? No problem! Learn how work can be saved and finished at a later time by viewing the video shown below.
Classroom Connection:
Doodle Splash can be used for whole-class discussion of a short story (or part of a novel), small-group work, or individually—all situation in which students can use doodles, symbols, drawings, shapes, and colors to construct a graphic of their story, chapter or article. After completing their individual or group images, students have the ability to print out their final versions for feedback and assessment.