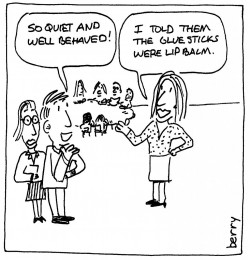 As Quincy Jones once remarked, "I've always thought that a big laugh is a really loud noise from the soul saying, "Ain't that the truth."
That said, Edu-fun Friday is a series devoted to adding some humor to the lives of teachers who visit this blog. After all, there's nothing better than ending the week on a positive note! Plus, do we have the best topics to provide us with some comic relief or what?
Maybe it's my twisted sense of humor, but this one produced a laugh out loud moment for me—probably because I feel exactly like this on days when I'm trying to convince others that devices suchas iPads really do have educational value. ***Sigh!
OK, so it's not really an edtech comic, but it's funny nevertheless. And considering that today is the beginning of the last full and totally crazy month of the school year (in most districts anyway), teachers may actually find this strategy to be very useful–ha!