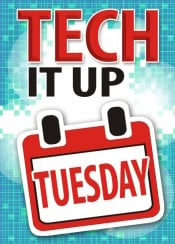 It's Tuesday again and that means it's time to roll out another tech-isode in my "Tech It Up Tuesday" series in which I will share an edtech tool, app, site or other resource that can be utilized in the educational setting.
This week's selection focuses on Snappy Words, an online visual dictionary and thesaurus that assists users with finding the meaning of words and connections to associated words via an interactive graphic.
Here's how it works: Just type the desired word into the search box and click Go or simply hit Enter, and the interface will generate a web of related words, phrases, and definitions. To explore additional info within the word web, complete one or more of the following: Hover your cursor over any word or phrase to read its definition; Click and drag any node to discover other branches of the web; Double click on a node to generate new web branches; and/or scroll the mouse over words to view words and meanings more clearly.
Still not quite sure what this "cool tool" does? Then check out the example shown below based on the keyword journey…
Snappy Words also provides the user with a key to explain the colors and lines on the visual.
Pretty nifty, eh? Oh, and did I mention that besides being simple to use, Snappy Words is free, no registration is required, no software installation is needed, and there is no limit on the number of searches a user can conduct.
Classroom Connection:
Snappy Words provides students with a fun and easy to use digital alternative for locating definitions and alternative word choices for their writing assignments.
There is no finish line so love the journey! ♥