In honor of Throwback Thursday, I thought I'd dial up a post that was written a few years ago by some of my Tech Club students. It goes something like this…
Videos are cool, but how about using pictures and eye-catching effects to make them? Here's a fun app called GifBoom that turns your ordinary pictures into an automatic slideshow!
With this app, you can use up to 30 pictures on your device from images taken directly from the app or your camera roll. Then pick the desired speed of the slideshow and choose any cool frame and effects that you like and think enhance the quality of your video. Afterwards the app takes control of your selections and creates your personalized masterpiece.
With your new slideshow complete, you can share your work to Facebook, Twitter, YouTube or the news feed on the GifBoom app. You can even view your friends' videos and everyone you follow too!
This free app works on your iPod Touch, iPhone, or iPad.
Here is an example we created using the names of the Tech Club students: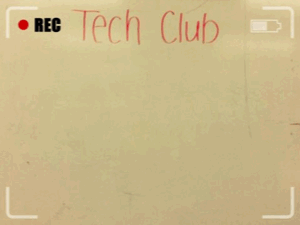 Classroom Connection:
GifBoom can be a very effective teaching tool in the classroom. Teachers can use it as a fun way to introduce new lessons or create vocab and spelling slideshows to teach students their new words. This app could also be utilized to help teachers learn the names of students. Have fun integrating this cool tool into your classroom by getting GifBoom now!
This student post was written by Tech Club students Alivia H., Abby L. and Stephanie M. for the Techno Buzz—a weekly morning news segment produced to introduce teachers and students at the Bellwood-Antis Middle School to new apps and web tools.