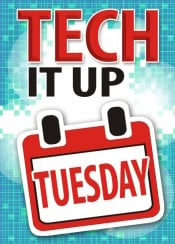 Welcome to the last edition of Tech It Up Tuesday for the 2015-16 school year!
Today's final tech-isode features a very useful infographic highlighting 26 ways educators can incorporate Twitter into their craft.
So, if you haven't adopted this social media platform as one of your go-to places for professional development and/or sharing pertinent info with coworkers, students and parents, no worries! There's no time like summer vacation to add a new set of skills to your tech-box!
Despite the 140 character minimum, tweets—articles, thoughts, opinions, inspiration, quotes, images and more—allow like-minded individuals to connect, collaborate, discuss, exchange and even debate all sorts of ideas with virtual colleagues. Whether it's best practices, instructional strategies, the latest and greatest tech tools or an innovative project, invaluable information is just a hashtag away!
Check out the infographic below for an A-Z list of ways educators can utilize one of the most popular social media platforms on the edtech scene to make meaningful connections with others.

Click here for a larger version of this infographic.
A shout out to eLearning Infographics for creating and sharing this useful info for educators!