Even though there is always a mind-boggling amount of invaluable info shared on the Discovery Educator Network (DEN), one of the best resources available is the Spotlight on Strategies (S.O.S) series, a must-see DEN favorite designed to provide teachers with simple yet effective instructional practices for using digital content to support student learning.
To date, there are 70+ teacher tried and tested strategies featured on the DEN blog and now thanks to Lance Rougeux, Vice President of Learning Communities and Educational Consultants at Discovery Education and all-around DEN tech guru, I will now be featuring these techniques on my space. Two thumbs up to this guy!
So, enough of that. Let's fast forward to the really good stuff…
This week's feature—The Envelope Please—is an instructional strategy that strengthens comprehension skills via predicting outcomes.
Big Idea
The purpose of this strategy is to allow students to use prior knowledge to make predictions and utilize discussion and reflection to solidify their understanding. The act of making a prediction is rooted in comprehension. In order to make good, strong predictions, students must have a solid understanding of the content being studied, be able to recall information, know how to use clues to make inferences, and make connections between different sources of information.
Now that I have your attention, all you have to do is click here to snag a PDF version of this super cool strategy which includes info related to materials needed, steps for integrating the The Envelope Please strategy into lessons, an example and extension activities. There's even a video overview you can check out here. Pretty cool, eh?
And last but certainly not least, here's a visual to get those wheels turning…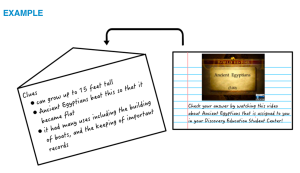 Can't get enough of these simple but effective instructional strategies? Click here to check out the entire S.O.S. series on the DEN blog!
So, there you have it: Another S.O.S. trick to add to your edtech toolbox. Stay tuned for additional ways to activate learning in your classroom…
Like what you see? Then be sure to check out other ideas in this series: