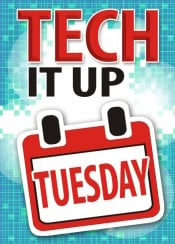 It's Tuesday again and that means it's time to roll out another tech-isode in my "Tech It Up Tuesday" series in which I will share an edtech tool, app, site or other resource that can be utilized in the educational setting.
Seems like a great day to learn about the coolest dictionary known to hombre, right? So, that's the plan! And the tool's name is Lingro, an online dictionary that converts an ordinary web page into one that transforms all of the words on the desired page into interactive definitions! Yep, just like magic this resource immediately displays a definition when any word on the page is clicked.
Having trouble wrapping your mind around all of that? Then check out the example shown below. First, I located a page of interest from the web (info about Groundhog Day from Scholastic.com), snagged the URL, pasted it into the Lingro interface and here's the outcome… As you can see, I clicked on two words and for each one, I received a box containing the part of speech and multiple definitions.
Oh, and in case you're wondering—Punxy Phil did not see his shadow this morning, so it looks like spring will be arriving in about six weeks (or less—at least I'm hoping so)!
Anyway, a really cool feature about Lingro is that it does not alter the appearance of the original web page. In fact, it looks exactly the same, except the words on the page are now clickable. (Is that even a word?) Basically, Lingro hides in the background until students need it.
In addition to being an online dictionary, Lingro can also be a translation tool as well. Just select one of the language options from the drop-down menu located at the top of the page (i.e. English to Spanish) and follow the same process as previously described. The result is now users will be able to click on a word and see its translation in another language along with its part of speech. Lingro can currently translate to and from English, Spanish, French, Italian, German, Polish, Swedish, Portuguese, Russian, Dutch and Chinese with more languages to be added in the future.
Another great feature built-in to Lingro is that students can add newly learned words to customized lists. This action can be done without logging into the web site, but if users have accounts, they can keep track of their words and even play various flashcard games with them in the Games section.
Classroom Connection:
A few words sum up this tool: Simple solution, big impact. Even though Lingro is a pretty simple tool, it packs quite a punch! Besides its "wow" factor, it ranks pretty high with the usefulness factor—especially for ELL, learning support or students who are struggling readers, particularly when they utilize internet sites above their reading level. It's also a great resource for foreign languages students as well.
If that's not enough of a reason to give Lingro a try, just remember that vocabulary influences fluency, comprehension, and student achievement. And it's also essential for effective speaking, listening, reading and writing.
Oh, and by the way—for those of you who have no clue as to what hombre means: It's Spanish for man. So now you can say that you just learned all about the coolest dictionary known to man!