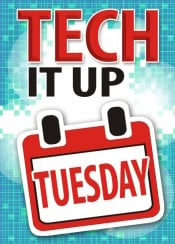 Welcome to another edition of Tech It Up Tuesday, a weekly series in which I share an edtech tool, app, site or other resource that can be utilized in the educational setting.
Today's feature begins with a question: As summer break rapidly approaches, what teacher doesn't need a really cool vacation app that can double as a pretty powerful instructional tool?
Well, if you're that person, the Photo Mapo app is a must-have digital gem. Yep, this really swell resource can transform photos into map-like masterpieces that can be shared with family and friends across social media networks including Facebook, Twitter, Flickr and Instagram. Even better, this tool has countless classroom app-lications.
But before we get to the really good stuff, let's take a sneak peek at how Photo Mapo works! First, choose one of 23 template styles (Postcard, Treasure, Retro, etc.) and tweak the background color. Then select a favorite photo from the camera roll and add an optional description to the image. Other information that can be customized on each "postcard" includes date, time, latitude, city, state and country. Map type (terrain, roads, hybrid and satellite) as well as Map Zoom (how much detail is displayed) can also be determined in the settings. Another super cool feature is that Photo Mapo has the GPS technology to attach the actual location where the picture was taken or the user can enter a specific address. The latter is a very cool option, especially when third party photos are being utilized (Flickr, Creative Commons, etc.).
Check out a few samples shown below. Hopefully they'll ignite your creative impulses!
Just for fun…
For the classroom…
Classroom Connection:
Do I even have enough space to share the ways Photo Mapo can be utilized in the classroom? Seriously, when I first saw this app, I immediately thought of the social studies angle: Historical figures, events, places and/or landmarks. But after giving it some additional thought, this cool tool has potential far beyond one content area. Field trips, the setting of a story or book, visual writing prompts or even the creation of graphics to accompany writing activities (i.e. favorite and/or bucket list destinations) and/or lit trips (similar to those created with Google Earth) are just a few ideas that came to mind. A Photo Mapo image could also be a nifty way to promote school or professional events such as assemblies, conferences, trainings, workshops, etc.
As a creative twist, students can get busy with an app smashing project by doing the following: Create a mash-up of several photos utilizing the Pic Collage app and then import that image into a Photo Mapo to create a unique geographical masterpiece.