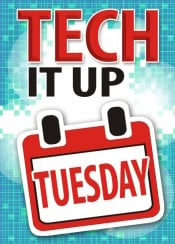 It's Tuesday and time for me to unleash the first tech-isode of 2017! Read on to learn more about "Tech It Up Tuesday", a series of posts in which I share an edtech tool, app, site or other resource that can be utilized in the educational setting.
This week's geeky goodness goes something like this… Earlier this month Google released additional updates for its learning management system, Google Classroom. These new features impact teachers (i.e. new notifications to manage student work), administrators (i.e. Classroom data will be included in the Admin Console Reports) and developers (i.e. the integration of various tools including gamification capabilities and the ability to automate classes from an SIS).
Pretty sweet! But nothing quite compares to the release of this bombshell: A way for teachers to differentiate instruction. So when teachers click that "+" button to add an assignment, announcement or question to a class stream, we now have some options that make it very simple to assign work to the entire class, individuals or a group of students. The info will only be displayed to students to whom it is assigned.
This super useful feature looks something like this…
Detailed instructions regarding the use of the differentiation feature can be found here.
Classroom Connection:
Besides the obvious application of distributing differentiated info to students, this new option could be helpful in a number of ways, including, but not limited to…
» Remedial or extension activities (for students in need of extra practice or enrichment)
» Group activities (different directions, documents, etc. can be assigned to different groups)
» Leveling activities (create various versions of the same assignment, varying the number of steps and/or rigor)
» Providing info to students who are absent for short or long-term periods of time
Thank you, Google! Teachers all over the world are doing a happy dance!