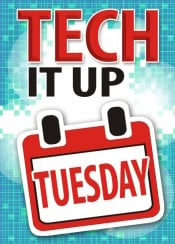 It's Tuesday again and that means it's time to roll out another tech-isode in my "Tech It Up Tuesday" series in which I share an edtech tool, app, site or other resource that can be utilized in the educational setting.
This week's gem is an infographic—one that will assist teachers with combining technology with digital tools to facilitate learning. And it goes something like this:
Of course, teachers know all about Bloom's Taxonomy, but if you're a technology integrator this one's especially for you! What makes this visual a grand slam is that it provides educators with power verbs to assist us with incorporating digital resources (web tools, apps, etc.) into each stage of the taxonomy.
Check it out right here, right now…
Need a poster of this useful infographic? Well, the Global Digital Citizen Foundation has you covered. They offer two different versions of the visual for downloading and printing. One is a quick print 11″X17″ PDF file for colorful handouts. The other is a 18″X30″ poster-size file for professional printing. Choose the one that's best for you, or snag both as they are freebies! Either way, the hard copy would be a great addition to an office or classroom wall.
Classroom Connection:
Whether you're developing lessons, creating rubrics and/or completing any other task requiring planning and assessment strategies, the infographic can be used to guide technology use in the classroom.