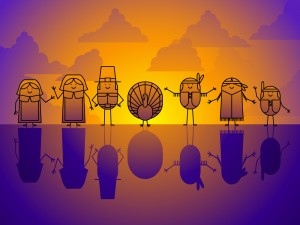 I cannot believe it's that time of year again! Regardless, the holiday season is rapidly approaching—especially for those of us living in the United States, where Thanksgiving is celebrated each year on the fourth Thursday of November.
So, if you're looking for some neat themed lesson plans and activities to incorporate into your classroom for this popular holiday, check out the following resources:
» Scholastic News – Learn about how the pilgrims reached America and celebrated the first Thanksgiving via videos, slideshows and a virtual field trip.
» TIME Magazine – An interesting article regarding "The Top 10 Things You Didn't Know About Thanksgiving".
» Teachers Love SMART Boards – A list of Thanksgiving-related activities that can be utilized with an interactive whiteboard.
» abcteach – Games, puzzles and coloring pages designed for elementary students.
» The Best Websites To Learn About Thanksgiving – From audio and video to engaging reading activities, Larry Ferlazzo's comprehensive list of Thanksgiving web sites includes something for everyone!
» The History Channel – Tons of videos related to the origins, history and traditions related to Thanksgiving. A few noteworthy videos include The History of Thanksgiving and the Mayflower Deconstructed.
» National Geographic for Kids – Contains a funny fill-in turkey story/Mad Lib that can be used as for a writing activity.
» Thanksgiving Web Quest – Visit Web sites about the Pilgrims, the Wampanoag and the famous harvest feast and learn new facts along the way!
» 10 Thanksgiving Myths Dispelled – A cool infographic created by Misconception Junction.
» The Pilgrims and the First Thanksgiving – A web adventure in which students have to answer questions along the way.
» Thanksgiving Trivia – The Huffington Post challenges you to take the ultimate quiz about Turkey Day.
» Thanksgiving Quiz – Another fun holiday quiz created by Funnel Brain.
» How Thanksgiving Works – A variety of Thanksgiving related articles and videos about the History of Thanksgiving as well as related customs, traditions and more from the creators of How Stuff Works.
» What Really Happened? Comparing Stories of the First Thanksgiving – A great feature from the New York Times Learning Network that also contains links to other useful resources.
Classroom Connection:
Use the resources and materials listed above to teach students about the Thanksgiving holiday.