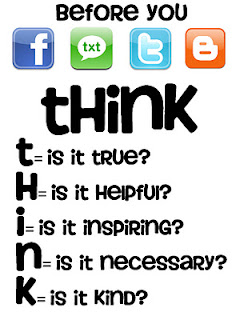 Digital Citizenship Week is not only the perfect time to acknowledge that our students need digital citizenship skills, but it's also a great time to engage students in activities about how to be safe and respectful online, and most importantly—why behaving responsibly is so important.
That said, my Tech Club students have begun a digital citizenship campaign in our middle school based on the motto "Think Before You Click". In addition to writing announcements each day for our morning news program and sharing images and video clips from Common Sense Media about creating a positive digital footprint, they produced a video of their very own to communicate our motto to the entire student body.
Set to be released in theaters everywhere, check out a sneak preview of the BAMS Tech Club's rendition of "Think Before You Click" below… Enjoy! =}
Thanks to Shannon Long, author of the technology rocks. seriously. blog, for developing the original "Before you Facebook, TXT, Twitter or Blog… Think!" poster that served as our inspiration for the video.
A special shout out to Brynn—one of my seventh grade Tech Kids—for developing the video idea after noticing the poster hanging in my classroom!
Classroom Connection:
The video and poster are excellent resources that can be used to remind students to exercise good judgment and digital responsibility when using all forms of  technology—both in and outside of the classroom!
Want a copy of the Before you Facebook, TXT, Twitter or Blog… Think! poster? Snag one here.