Live from the Pennsylvania Educational Technology Expo and Conference (PETE&C) in Hershey, PA—the cool tools capital of my world for the next few days. And since there's nothing quite like being present in the moment, I thought there would be no better time to share a nifty new tool I just discovered while I'm sitting here waiting for my next session to begin…
Check out The Noun Project, a site dedicated to providing users with standard clipart for every noun in the English language. Yeah, I know—it doesn't sound very techie. But if you're an infographic junkie like me, this resource is more than a must-have. Seriously, no more endless surfing for the perfect free icon or spending hours developing your very own. Instead just dial up The Noun Project and search the collection to your heart's content for the one that will rock your next design project.
So, how does this super cool tool work? Access the site, enter the desired icon in the search box and boom—the fun begins! Within seconds, tons of choices will appear on your screen. To download your favorite(s), simply right click on the icon (or control click on a Mac) and this action will save a high quality png file to your device. Next step: Have at it!
All 25,000 images (and counting) live in the public domain under a Creative Commons license—which means they are free to download as long as the designer is properly attributed. If that doesn't work for you, royalty free icons can be purchased for $1.99 each.
No sign-up or registration is required to utilize The Noun Project; however, users can create an account in order to download icons to a personal library within the site and/or to contribute icons to the global library.
For a sneak peek at the various collections of icons, check out the snippet below of some of iPod images I snagged from a recent search.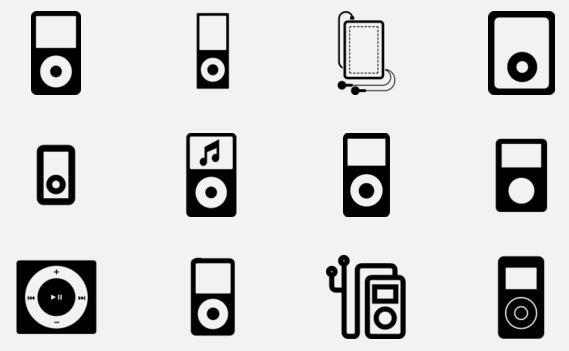 Is the NounProject compatible with mobile devices? Not yet! But the big collection is coming to small screens in the very near future so be sure to stay tuned…
Classroom Connection:
Use The Noun Project for any type of classroom activity that requires the use of icons—infographics, logos, brochures, illustrations, diagrams and/or multimedia projects.
If you're really feeling adventurous, the symbols could be utilized in various storytelling activities. For example, create a fun scenario in which students develop a dialogue based on a set of icons.
Of course, the universal sets of icons could also be integrated into a foreign language class to teach vocabulary or practice basic phrases and sentences. The icons could very well lead the way to more profound language acquisition.
Actually, with a little imagination, the The Noun Project presents an endless list of possibilities in an educational setting.
Thanks to Discovery Education guru Steve Dembo for the share out of this useful resource!