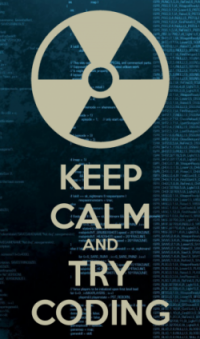 So, why just use technology, when you can build it, right? But first—students need the programming know-how in order to do so… And that begins with you!
Whether you choose to embrace the concept or not, it's becoming more and more important to equip students with coding skills. It's the new literacy for a generation of students growing up in a digitally-connected world. Having this knowledge not only strengthens general skills such as critical thinking and problem solving, but it will become invaluable in their future as a wide range of industries are eager to hire individuals with programming abilities.
That said—here's super cool sketch note highlighting ten reasons coding should be taught.
A shout out to Brian Aspinall for giving me the green light to share his work on my space. And to the sketch note guru Sylvia Duckworth for bringing some many important edtech concepts to life for all of us.
Classroom Connection:
The founders of Google, Microsoft and Facebook all started their journeys with just one line of code. Like these successful entrepreneurs, our students should have the opportunity to create the technology of the future, not just use it! I realize that teaching coding sounds intimidating to some, but if your students can type, they can code!
And guess what what? Computer science isn't just for kids! Everyone—especially teachers—can lead by example and learn a few lines of code. Fortunatley, due to a wealth of apps, online resources and improving technologies, learning to code has become less daunting. Don't believe me? Just Google it!
In the meantime, click here to check out a recent post in which I listed a few web-based games that can assist you with getting started on your very first—or next—coding adventure.
So, what are you waiting for? Make a plan to give your students a superpower that will enable them to thrive in our tech-based society!