OK, so who doesn't love the old school Pacman game? And what teacher doesn't enjoy creating fun learning experiences for their students? Well, educators can experience both by gamifying the classroom with you guessed it—Pacman, one of the many edtech resources available on the ClassTools.net web site.
Yep, it's very true—and very cool! In just a few steps, teachers can transform their test, quiz or review questions into a throwback arcade game from the 80's. Here's how:
Either select a pre-made game or generate a new game of your own. If teachers choose the latter, questions can be entered one at a time or a spreadsheet containing the info can be saved as a .csv file and uploaded to the site. Either way, the PacMan interface allows users to enter up to four answer choices per question. Keep in mind the first one submitted must be the correct choice.
Once the game is generated, it can be shared with students via a URL and/or by posting the link on a class blog or web site.
The PacMan tool is mobile ready, compatible with the iPad (HTML5) and a leaderboard is generated for every game that is developed.
Check out a sample game I accessed. I like the fact that before students can actually play the game, they have to answer a question correctly. (I won't even say how many attempts it took me to access Level One because I refused to Google the answer to my first question! I obviously need a crash course on the European Reformation!)
A sample of the game board that is provided to students… As you can see, it's just like the real deal!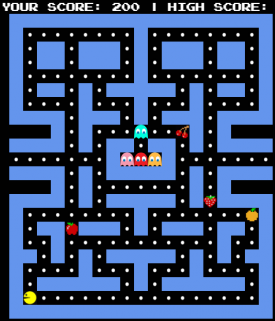 As with the original game, players navigate the PacMan character throughout the maze trying to eat all of the dots on the board. If PacMan collides with one of the ghosts, his life is lost, and the game immediately ends.
Players do not get the opportunity to play a new game until they answer three additional questions correctly.
And that's pretty much it… If your students have as much fun playing a review game as I did, I'm sure it will be a very worthwhile learning experience!
Classroom Connection:
Using games for review and/or formative assessment is a great way to make learning fun and engaging so why not give your students the opportunity to play PacMan and demonstrate knowledge and/or study content at the same time. Instead of calling on a few students during review, every student is responsible for reviewing, practicing, and learning important information.
In addition, PacMan—and similar games—can be utilized to create classroom challenges to increase competition between students and most importantly, to award excellence.
Games are also excellent bellringers, can be used before or after a lesson, as an exit ticket and/or homework assignment.