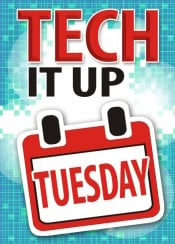 Welcome to the Valentine's Day edition of "Tech It Up Tuesday", a weekly series in which I share an edtech tool, app, site or other resource that can be utilized in the educational setting, then you're going to love this week's resource!
This week's edition is live from the Pennsylvania Educational Technology Expo and Conference (PETE&C) in Hershey, PA, the sweetest place on earth, and it goes something like this…
Forget boring vocabulary activities! InsideStory Flashcards bring the English language to life through engaging photos and matching definitions to provide students with a total visual experience. In addition to the simple but attractive pictures, users can click on a speaker for the correct pronunciation of words which are categorized into four levels: Basic/Kids & ESL (i.e. elephant, button, toothbrush), Easy/Vocabulary Builder (i.e. rant, apparel, stagnant), Medium/SAT Vocabulary (i.e. imposing, ominous, ambidextrous) and Hard/GRE & Beyond (i.e. dishabille, boreal, prescience).
InsideStory Flashcards can be downloaded, printed and/or users can simply improve their vocabulary by utilizing the online tool. Although the site is free to use, flashcards sets are also available for purchase via the InsideStory Flashcards online store.
Spend a few minutes on this site and you will not only get the idea that learning words can be a lot of fun, but you'll also see why the creators of InsideStory Flashcards dub their product "the world's most interesting way to learn words". Check out an InsideStory Flashcards example is shown below.
Classroom Connection:
Since images used to supplement learning can help to present and define information in a more meaningful context, InsideStory Flashcards are a great addition to any classroom! Not only is this tool an excellent resource for visual learners, but these flashcards provide a fun and engaging way to learn new words and/or practice vocabulary terms.
Give some of these ideas a try:
» Project the site to a screen or interactive whiteboard and utilize the flashcards as the "Word of the Day". Challenge students to use the word in an assignment and/or conversation.
» Divide students into pairs or small groups to see which team can create the most original sentence using a new vocabulary word.
» Use the flashcards as a creative writing prompt.
» Print the flashcards and use them in a writing inspiration station/center.
» Practice SAT vocabulary.
» Assist ESL students with learning the English language.
So, these vocabulary words don't pertain to your content area? No worries! Use the InsideStory Flashcards concept and have students create their own vocabulary projects using the Motivational Poster or Trading Card utilities in Big Huge Labs—one of my most favorite web tools of all time! These activities will enable your students to learn, understand and utilize vocabulary in a more meaningful way. A sixth grade example is shown below.
For more information about the value of using images in your classroom, check out my "Big Huge Labs: Using Images to Enhance Reading, Writing & Thinking Skills" wiki page here.
Happy Valentine's Day! Here's to spending it with the people that mean the most to you! ♥