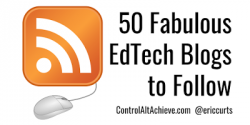 Edutech for Teachers is once again humbled to learn that we have been added to another list of recommended blogs to check out. This time we've been included on Eric Curts' list of 50 Fabulous EdTech Blogs to Follow!
According to Curts, author of the popular Control Alt Achieve blog, "One of my main sources for new educational technology ideas, tools, and resources is reading blogs. Every day is an adventure to see what new technology integration ideas I can learn, explore, and share with others."
That said—if you're interested in building your PLN, then be sure to take a look at these sites. There's always something new and innovative to learn from these edtech peeps!
Thank you, Eric, for including my space on your collection of learning resources!