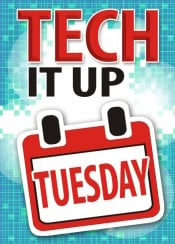 Welcome to the latest edition of "Tech It Up Tuesday", a weekly series in which I share an edtech tool, app, site or other resource that can be utilized in the educational setting.
This week's #edtech goodness is one for the digital photo gurus—and it goes something like this…
If you're interested in adding some originality to your pics, then PhotoFunia, a free online photo editing tool, is the ideal resource for you—and your students! Whether you want to see your portrait on the cover of a magazine, the billboards of Times Square or on the walls of the Louve—or maybe you just want to make your own mark in the sand, write graffiti text on a wall or create a customized road sign… Either way, a myriad of effects and filters are waiting for you on this fantastic site!
Aside from hundreds of ways to pimp out your photos, did I mention how simple PhotoFunia is to use? Yep, you don't even need a bunch of high-tech image editing skills in order to utilize and enjoy this application. Oh, and guess what? There is no registration or software download necessary to get started. Just select the desired template, upload your photo(s), and after a few clicks, your very own work of art is ready in an instant. Depending on the filter chosen, users have several download options in order to save images for future use.
But wait! There's more…
You can get your creative on anytime, anywhere by utilizing one of the PhotoFunia mobile apps that are available for any mobile device.
Sound too good to be true? You might think so, but not so much. As the name implies, this tech tool makes tweaking photos a lot of fun. And it's pretty impressive as well, especially for a freebie!
Check out a few of my favorite effects shown below…
Ever wondered what's it like to be a rock star? Project a picture of you and your students on a huge screen in front of your loyal fans by taking center stage with this fun concert effect.
So, you wake up in the morning and a newspaper is waiting for you. Look! One of your students made the headlines!
Create your own vintage stamp effect by uploading a few of your favorite student photos.
I'm sure your students have dreamed of starring in a hit TV show? Find out what they would look like with this nifty retro TV Prisoner effect.
Leave a personalized message on a foggy window.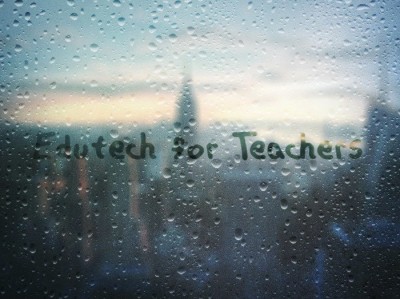 Classroom Connection:
Give students the opportunity to use the PhotoFunia effects to design captivating supplementary materials that add a creative edge to any project or presentation that requires the use of an image to convey an idea or concept: Digital stories, reports, posters, advertisements, comic strips, blogs, wikis and much more!
Additional ways teachers PhotoFunia can be incorporated into classroom activities include using the tool to generate visual writing prompts, displaying student artwork, publicizing student achievements and announcing school events on social media.