Welcome to the weekly edition of The Edtech Smackdown—a collection of digital resources containing a few of my most favorite activities, tools and articles curated from various social media spaces throughout the past week.
Check out some super cool edtech gems right here, right now and get ready to use these ideas to support learning and to engage students in your classroom!
As usual, this week kicks off with more Google goodness you won't want to miss…
» 6 End of Year Google Classroom Clean-up Tips—By Eric Curts, Control Alt Achieve
» The Guide to Google Drive Sharing: FREE eBook—By Kasey Bell, Shake Up Learning
» Awesome Assessment App Smash: Google Drawings and Google Forms—By Avra Robinson, EdTechTeacher Instructor
» Favorite Google Docs Tips & Tricks—From the Google Teacher Tribe Podcast with Matt Miller & Kasey Bell
» Video Projects with G Suite—From the Google Teacher Tribe Podcast with Matt Miller & Kasey Bell
» Google Sheets Cheat Sheet for Teachers and Students—By Kasey Bell, Shake Up Learning
» Google Classroom: Record Video Straight to Classroom—By Alice Keeler, Teacher Tech
» ABC Summer Countdown on Google Slides—By Erin Flanagan, Erin*tegration
» 5 Google Slide Tips & Tricks—By Meagan Kelly, I ❤ EDU
» Teach Like the Tonight Show: Internet Pop Quiz with Google Slides (Teacher Edition)—By Kasey Bell, Shake Up Learning
For the Apple Gurus…
» 10 Things Siri Can Do for Teachers & Students—By Julie Smith, The Techie Teacher
» iPad Desk Plates—By Erin Flanagan, Erin*tegration
The #MakerEd Movement…
» What the Heck is a Makerspace?—By Matthew Lynch, The Tech Edvocate
» Educator's Guide for Designing a Makerspace—By Mayuri Ambule, EdTechTeam
Other #EdTech Faves…
» 20+ Fidget Spinner Activities—By Denis Sheeran, Instant Relevance
» 8 Ways to Use Scratch Coding Cards in Your Classroom—Contributed by the ScratchEd Team
» 10 Ways to Use Adobe Spark in School—By Richard Byrne, Free Technology for Teachers
» Statistical Research PBL: A HyperDoc + Smashboard Project—By Meagan Kelly, I ❤ EDU
» Visualize, Connect, Doodle, Repeat: Sketchnoting with Students Using Explain Everything—Guest blog post written by Carrie Baughcum for Explain Everything
Good Reads…
» The HyperDoc Handbook: Digital Lesson Design Using Google Apps—A book written by Lisa Highfill, Kelly Hilton & Sarah Landis
» 12 Inspiring STEM Books for Girls—Article written by Emelina Minero; Featured on Edutopia
» 3 Must-Read Books for Teachers—Nick LaFave, EdTechPicks
Other Super Cool Stuff…
» The 2017 Honor Roll: EdTech's Must-Read K–12 IT Blogs—Compiled by Meghan Bogardus Cortez, associate editor with EdTech: Focus on K–12
» End of the Year Project Using Snapchat—By Sarah Weck
And last, but certainly not least… I recently had the awesome opportunity to become a member of the Tech with Us Community on Facebook. Check out our page for tons of awesome edtech ideas, discussions and other resources!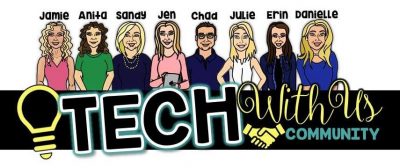 So there you have it—this week's smackdown! Stay tuned for additional resources coming your way in the next round…
In the meantime—if you've missed any of my previous edtech collections, check 'em out within the interactive image embedded below… Be sure to hover over the image to reveal the hotspots!
Click here to view a full screen version of this image.