Welcome to the iPadpalooza Smackdown—the highlights, takeaways and some swanky digital resources from my edtech adventures at this app-making learning festival!
Check 'em out right here, right now…
Day One kicked off with a variety of super cool activities that created an atmosphere of high energy, inspiration and motivation including…
» An amazing light show produced by students from Westlake High School…
» A Keynotathon featuring 12 edtech gurus speaking about their passion when it comes to education…
» A super funny spin off of Carpool Karaoke to give a shout out to the event's sponsors…
Yep, that's me with the one and only Mathy Cathy!
And then the sessions began…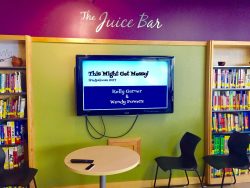 First up—This Might Get Messy, a hands-on workshop in which the speakers, Kelly Garner & Wendy Powers, provided tons of practical ideas for building a makerspace as well as activities that can be utilized to get students thinking, designing, creating…making! Click here to snag a copy of my notes. (Disclaimer: Doc is in total rough draft form but includes lots of useful info.)
And then there was this: The best lunch idea…ever! Food trucks and live music—what could be better!
Next up—AppSmashing for Evil, a presentation about fun and inventive ways to mix apps together for evil…and learning. Don't miss this Smore flyer that is jam-packed with apps that can be used to get those creative brains movin' and shakin' and demonstrating knowledge in a visual way!
We had some good laughs with our assignment: reating an appsmash about the mastermind behind iPadpalooza, Carl Hooker As you can imagine, generating spoofs about someone with that last name is pretty easy! Check out some pretty funny visuals made by other participants at #wwchs.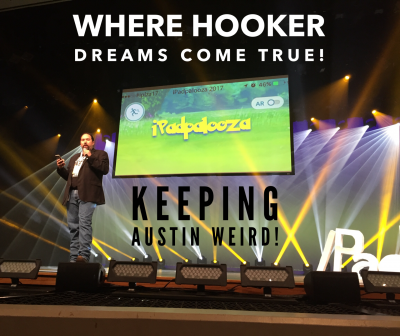 Messing around with the Sphero challenges was pretty fun too! I'm looking forward to developing some of these activities for our students.
The day concluded with me having the opportunity to present about my District's 1:1 iPad initiative, specifically the keys to our success story. A shout out to Tim Yenca for the encouragement to apply for a spot in this year's lineup. I'm so appreaciative of this amazing opportunity!
The video I created for my gig…
And of course, I also had the opportunity to connect in real-time with some peeps from my virtual PLNs including Sandy who is a member of the Tech with Us Facebook Community.
Then I had the opportunity to putz around on Congress Street in Austin in the evening… What a super cool place filled with neat restaurants, one-of-a-kind novelty shops and other fun stuff!
Stay tuned for more really good stuff from the place where the edtech magic is happening…