Welcome to the iPadpalooza Smackdown—the highlights, takeaways and some swanky digital resources from my edtech adventures at this app-mazing learning festival!
Check 'em out right here, right now…
Day Two got rolling with an inspirational presentation featuring keynote speaker Jason Silva, the Emmy-nominated host of National Geographic Channel's #1 rated series, Brain Games, who shared some of his "Shots of Awe," micro-documentaries exploring creativity, innovation, technology and futurism.
Next up: Make! Move! Makerfy!—A totally cool session about combining two making and gaming into a hands-on, high intensity,
collaborative project-based learning activities dubbed as Makerfication. Miami technovators Rick Funes and Andres Joubert hit this one out of the park as they shared their excitement, energy and tons of ideas, examples and resources to make this concept come alive in your world.
To better understand the concept of Makerfication, we participated in a group "make"—to engineer a tower for the city of Austin with a predetermined set of materials. Points based on teamwork, problem solving and creativty were awarded to each group as we worked to accomplish the task. And then of course, a winner was determined at the end of the session.
Highlights from the action in the room…
Then there was the costume contest to commemorate Dress up Day. The creativity and laughter that resulted from seeing all kinds of funny scenes throughout the day added to the energy.
More food trucks and live music during lunch…
It's just not official until you visit the Photobooth…
My first afternoon session—Bill is Digitally Literate… Be Like Bill focused on teaching students digital literacy skills as well as the
importance of showing them how to use social media responsibly so they can become effective communicators in today's society. In order to do so, Steve Dembo suggests incorporating activities in which students create memes to succinctly convey information and ideas.
One point he shared that really resonated with me was that how to do something complex starts with something simple and that the smallest form of creativity is just that—like a meme. At a glance these types of visuals appear to be very simplistic; however, they can often time speak volumes.
An example I created using the imgflip Meme Generator:
Dembo also discussed the importance of teaching students to be skeptical and critical so they don't automatically believe everything they read online.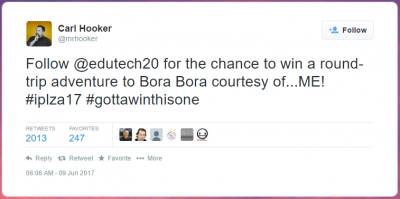 Fake news or reality? You decide. In the meantime, check out the link to this very useful presentation here.
Last stop of the Day: So, You Want to be an EdTech Integrator?
With Richard Wells from New Zealand in the house, I had the awesome opportunity to share insights from a day in the life of an ed-techie alongside a group of colleagues from around the world. Despite our differences—geographical locations, workplaces, roles and experiences, a common theme emerged as the key to success: Knowing and being able to articulate your why as well as building relationships and trust with staff and students.
A super high five to Felix Jacomino for giving me this way cool opportunity!
So, you want to be an #EdTech integrator? Panelists #iplza17 @EduWells @AshleyPampe @TechChef4u @AskAdam3 @mryenca @edutech20 pic.twitter.com/6gZSGt5ciA

— Felix Jacomino (@FelixJacomino) June 7, 2017
This tweet was pretty epic too!
Listening to a rock star panel at #iplza17 discuss #EdTech integration 💻📱✨ pic.twitter.com/t2xeKldttt

— Monica Burns (@ClassTechTips) June 7, 2017
And then there was this random encounter with Reshan and Sam, the Explain Everything guys—plus one!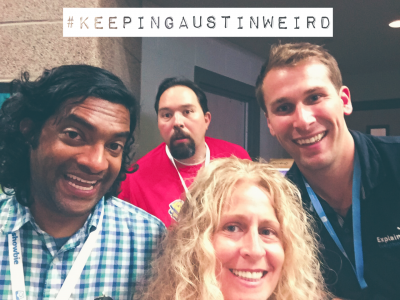 The day concluded with another adventure on South Congress Street… More putzing, shopping and some after hours making with "play dough" at Home Slice Pizza.
Last stop: The Congress Avenue Bridge at sunset where I got the chance to witness the largest urban bat colony  in the world (1.5 million of them!) spiral from underneath the structure into the night sky for their nightly feeding frenzy. Way. Cool. Seriously!
My Takeaway: We all could learn a lot from a Mexican free-tailed bat… Like—Find your tribe and then stick with 'em! That said, I hope you found your peeps throughout this week of learning, collaborating and networking. Be sure it doesn't end there though… Continue to connect, share and make a differnce with them way beyond iPadpalooza!
Stay tuned for more really good stuff from the place where the edtech magic is still happening…