Welcome to the iPadpalooza Smackdown—the highlights, takeaways and some swanky digital resources from my edtech adventures at this app-mazing learning festival!
After taking a few days off, I'm back in the blogosphere to share thoughts from my final day of edtech awesomeness in Austin, Texas. Check it out right here, right now…
The day began with multiple impromptu conversations—unplanned encounters that often result in the best learning experiences of all…
Lisa Johnson: The Techchef4u and I talked at length regarding analog sketchnoting—how, when, why, materials, etc. And I even got a behind the scenes look at her work as she shared her professional and personal journals with me. What an inspiration! As an individual who really enjoys scrapbooking and doodling but can never seem to find the time to do so any longer, I have now set a new goal: To begin sketchnoting on a regular basis. Stay tuned for some original artwork based on my ed-ventures in Austin…
In the meantime, check out some swanky examples from the Techchef4u…
Or you can even check out a video created by Lisa at iPadpalooza on this very topic…
Oh, and in case you missed it… Be sure to take a look at Lisa's latest read Cultivating Communication in the Classroom: Future Ready Skills for Secondary Students. Jam packed with original ideas and activities from the Tech Chef herself, this is a must-have for your summer book list.
On my way to a session I bumped into the Makerfication gurus, Rick Funes and Andres Joubert, and was able to ask additional questions about implementing this concept in my district. Their enthusiasm and energy that is present when they speak about their passion—connecting making and gaming—is so contagious. Tap here to check out my Day Two Smackdown for more info about "the corner of making and gaming.
Cathy Yenca: There's always a takeaway when I have the opportunity to connect with Mathy Cathy. Whether it's virtually or in 3D, the time spent is always well worth it. This time the focus was on the power of Keynote—an app that can be leveraged for so much more than presentations. Be sure to access the digital flyer from Cathy's session here. You'll be amazed at how much this tool can make an impact in your classroom!
Next up: Six-word story, Six Unique Shots: Enhancing Writing Through Multimedia… This session, facilitated by Don Goble, focused on taking the paper/pencil six word story literacy strategy to a new level by transforming it into a video format.
Take a deeper look into this topic by downloading a copy of Don's iBook and/or access some super cool student examples (and more!) by visiting the LHS-TV site here.
In the meantime, here's an example I created during the session.
As a total escape room junkie, one of the best parts of the week was having the opportunity to visit the official iPadpalooza Pokémon themed breakout room designed by members of the Eanes iVengers Team, including Jen Flood, Fred Benetiz and Rich Lombardo. Solving the really unique clues and riddles with my team of 12 was a challenging yet super fun time—one that was hands-down a favorite of mine.
Did I happen to mention that my group totally rocked it! Yep—we escaped with a record-breaking nine minutes to spare…Boom!
Not only did I earn the coveted sticker for busting out of the escape room, but this adventure also led to me having some face time in the VIP green room with Tara Martin, the creator of the BookSnaps and one of my escape room teammates. I had the opportunity to get a one-on-one lowdown about this trending topic as well as the chance to hear the personal story behind how her brainchild came to be one of the latest edtech sensations. One word (as Tara would say): #eduawesomeness!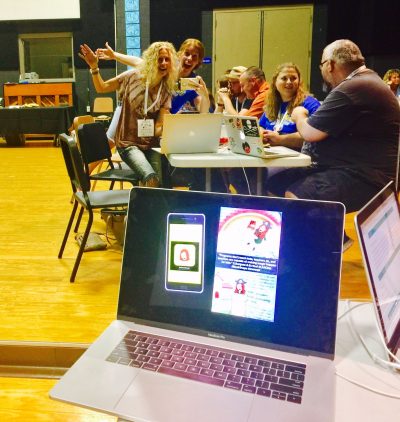 Here's an example of a booksnap—one I snagged from Twitter from Mena Hill. To learn more about this powerful way to get students reading and writing with one of their go-to social media apps, check out this introductory post from Tara's fabulous site here.
My last sessi
on—Movers & Makers—focused on the basics of 3D printing. I'm hoping to incorporate this type of technology into one of our Makerspaces in the upcoming year…
And then there was the ending celebration which was nothing short of a rock concert—prizes, prizes and more prizes including iTunes Cards, Apple Watches and iPad Minis; voting for the student film festival winners; announcement of the week long APPmazing Race winners; a Dance Off with top honors receiving a new iPad Pro; a video montage highlighting good times from the past six years and best of all—an EdTech Rock Opera written and performed by Felix Jacomino and his wife Judy. #hilarious
Here's a sample of their musical genius…
A visual wrap up of the final event, which includes one of my fav pics: Me with my peeps who are originally from PA—Tim & Mathy Cathy Yenca…
And then the news came… Carl Hooker announced that this would be the final year of iPadpalooza, Austin-style… *sigh! Although I was totally disappointed to hear this info, I am looking forward to what comes next from the iVengers Team. If it's anything at all similar to the four days I spent learning, connecting and networking—it will be well worth the wait!
And my final thoughts… Thank you Eanes ISD for an app-solutely amazing experience! You guys rock… Seriously! Until next time—peace out! ♥