Looking for some interesting K-12 edtech data? Then look no further than the New Digital Learning Playbook, Project Tomorrow's annual Speak Up National Research Project which provides districts nationwide and throughout the globe with new insights into how today's students want to leverage digital tools for learning.
In fall 2013, over 403,000 online surveys from K-12 students, parents, and educators representing over 9,005 U.S. schools were used to establish a more comprehensive understanding of the various ways students are currently tapping into a wide range of mobile devices to enhance learning anytime, anywhere.
Check out the infographic shown below to see how mobile devices enable new and customized learning that is un-tethered and digitally-rich.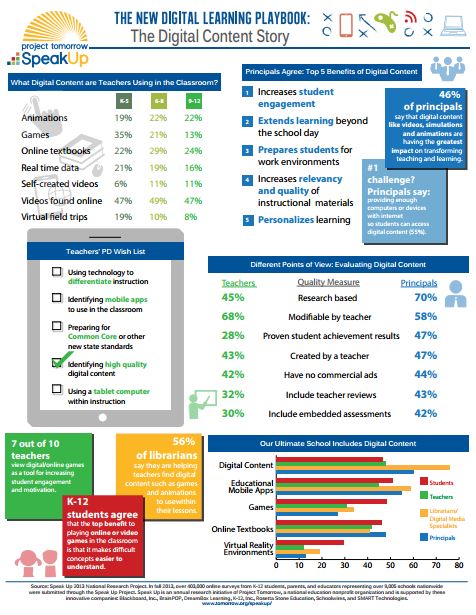 A full page version of this infographic can be found here.
Classroom Connection:
Educators are always looking for data to support the value of digital tools related to the learning process. The findings provided in this infographic (and corresponding report) provide additional rationale to support the integration of technology into classrooms and beyond.
A shout out to my colleague Jim Gates for sharing this valuable edtech info!