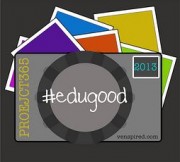 You want me to join what? Yep, you read that title correctly—the #edugood 365 Photo Project. That's right! Here's your chance to spend the next year documenting and sharing all of the positive happenings in your classroom—and life—through the lens of your camera!
And why would I want to do that, you ask? Well, for starters the #edugood 365 Photo Project encourages participants—teachers and/or students—to focus on the positive aspects of teaching and learning. In fact, documenting a daily image will create an impressive visual history of a day in the life of an educator. And as time passes, you will have developed a cumulative look into the noteworthy experiences that take place in your classroom, school and/or district—one that will serve as a reminder that the work we do does indeed make a difference!
Visit the #edugood 365 Photo Project web page to read additional information regarding the activity which includes rationale, guidelines, tips and recommended tools/apps to embark on your very own visual diary journey highlighting your piece of the educational world!
Because of the cool user friendly interface as well as the capability to embed the calendar into a blog, wiki and/or web site, I chose to use the ShutterCal tool for my #edugood 365 Photo Project. Check it out below—and be sure to click on the photo to access the entire calendar.
BTW—ShutterCal offers users three ways of sharing calendars: Via a link, embed a specific date or embed the most recent picture, which is updated automatically. I selected the latter option.
Oh, and in case you're wondering, I chose to upload some personal photos to my calendar on non-school days as a reminder of all of the good that exists in my overall life, but of course, that's certainly your prerogative.
A shout out to History teacher Pontus Hiort for sharing the #edugood 365 Photo Project with his Twitter followers.
Classroom Connection:
Create a #edugood 365 Photo Project with your students to highlight the learning—activities, events, projects and achievements that occur throughout the year—in your classroom, school and/or district. An assignment of this nature also teaches students digital photography skills and the use of a photo sharing tool/app as well as other real-world tech skills such as uploading and downloading files and sharing and collaborating in an online environment.
Depending on the tool/app chosen for the project, students also have the opportunity to add captions to daily photos—a literacy activity that reinforces comprehension skills while providing the students with an authentic writing activity using the nonfiction genre.
Before students upload photos to the tool/app of choice, challenge them to edit them with a "Cool Tool" such as BeFunky, Image Chef  and WordFoto to name a few.
And there you have it—a number of really great reasons why you and your students should become part of the #edugood 365 Photo Project. Don't wait another day to get started!