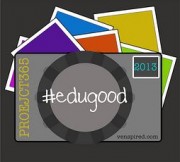 Looking for a great way to kick off the new school year? Then consider joining the the #edugood 365 Photo Project.
Not only is it a fun way to get things started, but it's an activity that can be sustained throughout the entire year!
Not sure what I'm talking about? Then here's the scoop! The #edugood 365 Photo Project is a venture that challenges teachers and/or students to spend a year photographing and sharing all of the positive happenings in their school, classroom and/or life. Once pictures are taken of students engaged in lessons, activities and events, they can be uploaded to a web-based photo calendar (i.e. ShutterCal) that can be viewed by others.
My students and I participated in this project last year, and we loved it! I personally think it's t's pretty neat having the chance to check out the happenings in my classroom (and life) throughout via a visual timeline—Tech Club activities, student projects, professional development sessions with my BFFs and of course, fun times with the family and my favorite furballs. Edugood? Nope—more like edu-totally-awesome!
Sure, committing to set aside time on a daily basis to take a meaningful photo and then upload it to my ShutterCal has added another item to my ever-growing to-do list. However, the advantages of documenting my students in action far outweigh any drawbacks that I could possibly encounter. Plus, I have found that I really enjoy trying to find a way to photograph something cool about my day, every day. It's amazing the good that can be found when the search is for the positive as opposed to dwelling on the negative and/or a circumstance that is beyond one's control. Just saying!
So, if you haven't joined the #edugood 365 Photo Project—it's not too late! Trust me, it's time well spent! In the meantime, check out all the edugoodness at BAMS!
Classroom Connection:
Besides the awe-factor associated with being able to take a cumulative look at the learning that takes place in your school environment, there are a number of educational benefits associated with creating a project like this for your classroom and/or with your students. Check them out by visiting my Join the #edugood 365 Photo Project post.
A huge shout out to Krissy Venosdale for creating this worthwhile project and sharing it with other educators. Check out her Venspired blog for more info and ideas!