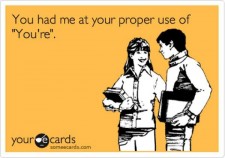 Your or you're? There, their or they're? I suppose it's the eternal teacher in me, but there's nothing that makes my head spin like the Exorcist more than seeing the inappropriate use of these words—in the classroom and beyond! As much as I appreciate gadgets and the digital world in which we live, I would probably have to say that I believe all of the quick and casual codes that are often associated with texting, email and social media have somewhat contributed to the massacre of the English language.
Don't get me wrong: I'm guilty of using my own form of communication when I'm banging around on my mobile devices, but when I need to write formally or effectively, I can and do. I sometimes wonder: Can our students do the same?
But enough of that totally serious stuff… This was supposed to be a lighthearted post not a debate about technology and its potential effects on grammar. Or is that it's and affects? Just kidding! Check out the infographic shown below depicting 15 of the most common grammar goofs. It made me laugh (OK, sorta!). If nothing else, learn how you can help your students avoid looking like total hillbillies!
A shout out to the Copyblogger for creating and sharing this useful infographic.
Classroom Connection:
Although this visual certainly does not contain all of the grammar goofs that our students (and colleagues!) are guilty of making, this infographic could be used as a quick reference guide and/or as a fun classroom poster that displays some of the most common grammatical errors.