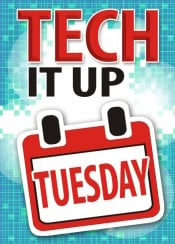 Got a upcoming presentation to prepare for? Want to avoid "Death by PowerPoint"? If you've ever asked yourself one of these burning questions, then this week's edition of "Tech It Up Tuesday" is just for you…
The folks at Best STL polled some PowerPoint experts for their tried and tested PowerPoint tips then generated the How to be a PowerPoint Power User infographic to help others take their next presentation to the next level. This nifty visual even includes tips about how to smash PowerPoint with some really cool productivity apps to ensure you are prepared for any occasion.
Check it out below!
Click here to view a full screen version of this visual.
Classroom Connection:
You and/and your students can utilize the seven tricks mentioned in the infographic to help your next presentation stand out from the competition.