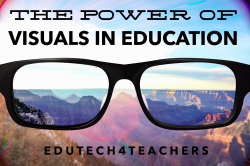 Did you know that the human brain can process visuals way faster than text? Yep, not only are they more interesting and eye-catching, it's a proven fact that we're actually wired to respond more favorably to visuals. Furthermore, according to a recent study, 65% of the population now consists of visuals learners which would explain why our society is so hooked on Facebook, Pinterest and Instagram—all technologies that are essentially image-based.
Obviously, we are living in the age of visual information. So, if that's the case, then shouldn't we be teaching and learning in that same age of age of visual information as well? As educators, shouldn't we be leveraging the power of visuals in all types of instruction?
Of course, these are rhetorical questions because it's apparent that images are clearly the key to engaging students. They quickly transmit messages, improve comprehension, strengthen retention of knowledge and motivate learning. That said, check out the infographic shown below that illustrates the types of visuals that ignite our brains.
A shout out to SH!FT eLearning for sharing this useful graphic! Learn more about how each visual shown on the infographic can impact learning here.
Classroom Connection:
This "visual about visuals" focuses on the type of content that should be used to create a more engaging online course, but this info can be applied to all types of learning situations.
If you would like to read more information about the power of visuals in learning, check out an interesting article here.