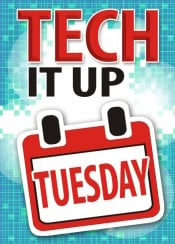 It's Tuesday again and time for me to unveil another tech-isode in my "Tech It Up Tuesday" series in which I will share an edtech tool, app, site or other resource that can be utilized in the educational setting.
This week's geeky goodness is about to get started right here, right now with some very important info…
Since an educator can never share enough copyright guidelines with students, here's another easy to read and understand infographic regarding the use of images.
Although not comprehensive, it does include the basics regarding copyright, fair use, creative commons and public domain so it's an excellent place to begin the discussion—especially if you haven't already done so. Check it out!
Click here to view a larger version of this image.
A high five to The Visual Communication Guy (a.k.a. Curtis Newbold) for creating and sharing this very useful infographic!
Classroom Connection:
Use the Copyright Guidelines for Images infographic as a conversation starter and/or reminder when students are developing multimedia activities, presentations and projects.
The visual is also a great resource for teaching students to be responsible digital citizens!