Need to pimp out your iPad with some pretty amazing apps for enhancing teaching and learning? Then check out this fun (and recently updated) infographic containing a variety of resources that can be utilized in the classroom. They are categorized in areas such as creativity, demonstrating, computing, collaboration, numeracy, literacy and more! And better yet—the majority of these apps are totally free!
As you check out this super cool resource, remember… It's never just about the apps. Instead effective technology integration is all about how tools support curricular goals in a meaningful, relevant, student-centered manner. With that said, hopefully this compilation of tried and tested educational apps will be helpful as you try to determine which ones might be the most beneficial for you and your students.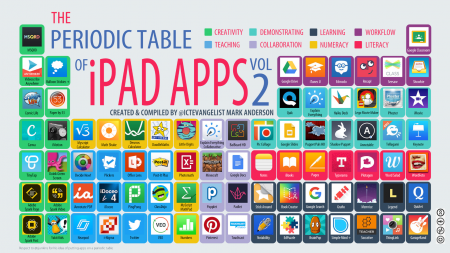 Click here to view and/or download a high resolution file of this image, which was created and compiled by the amazing ICT Evangelist Mark Anderson.
H-appy exploring!